The thrilling and captivating game Sniper PK: Multiplayer Online Apk immerses players in the life of a sniper. This competitive and intense online game requires players to use their skills to become the ultimate sniper. In this game, players can choose from a variety of weapons, including rifles, pistols, and shotguns. Players can customize their experience with each weapon based on its advantages and disadvantages.
In the game's online multiplayer mode, players can team up with friends and compete against other players. You can join existing battles or create your own, inviting friends to challenge each other. Additionally, players can customize their avatars, selecting from a variety of options to make their character unique.
A variety of maps and environments are included in Sniper PK: Multiplayer Online Apk, from urban areas to rural countryside. By using their skills, players can traverse the terrain and eliminate their opponents strategically. Players can also adapt their strategies to the changing weather and time of day in the game.
A captivating and thrilling game, Sniper PK: Multiplayer Online Apk is sure to please any shooter game enthusiast. Sniper PK: Multiplayer Online Apk offers challenging gameplay, wide array of weapons, and online multiplayer mode.
Features in Sniper PK Multiplayer Online Apk
Match With Global Players
Combat with global players in 3v3 match battles, show your sniper shooting skills, win more trophies to get milestones rewards, dominate the leaderboard!
Multiple Modern Guns
More than 50 guns in the shooting game. The higher the level and quality of the gun, the higher the damage. You can also obtain gun attribute bonuses through certificate. Use the most adept gun or crossbow to get the highest score!
Upgrade Strong Armor
Match different armors with different guns, unlock more attribute bonuses by upgrading.
Rich Warzone Maps
Combat in many different warzones such as Vietnam, Somalia, Brazil, France, Egypt, Chernobyl, Norway and so on. The real warzone gives you a real battle experience. More warzones will be added.
Various In-Game Events
Except for the 3v3 matches gameplay, there are also rich events in the fun game, such as new weapon event, login event, challenge event, tournaments and so on. Compete for the good ranking to win more rewards!
Personalized Appearance
In the pvp game, you can freely choose character, avatar, avatar frame and gun to display. Create your exclusive image!
Easy Control And Exquisite Graphics
The game is easy to play, combined with exquisite 3D GRAPHICS, which give you an immersive first-person perspective experience. Enjoy this classic modern warfare shooting game!
Gameplay
Team battles are just around the corner, are you ready? Take part in exciting multiplayer PvP battles in different warzones. Multiplayer FPS Online is a 3D free game where you can create powerful teams, fight against players around the world, strive for a higher ranking, and fight until you die!
Sniper PK: Multiplayer FPS Online is a free 3D online shooting action game with tons of features. You can match against players from all over the world, as well as participate in various events that can help strengthen your arsenal. In the shooting range, you can practice your skills and get MVP in real battles. Enjoy 3v3 battles, show your true strength, and become the best shooter in Sniper PK.
Screenshots: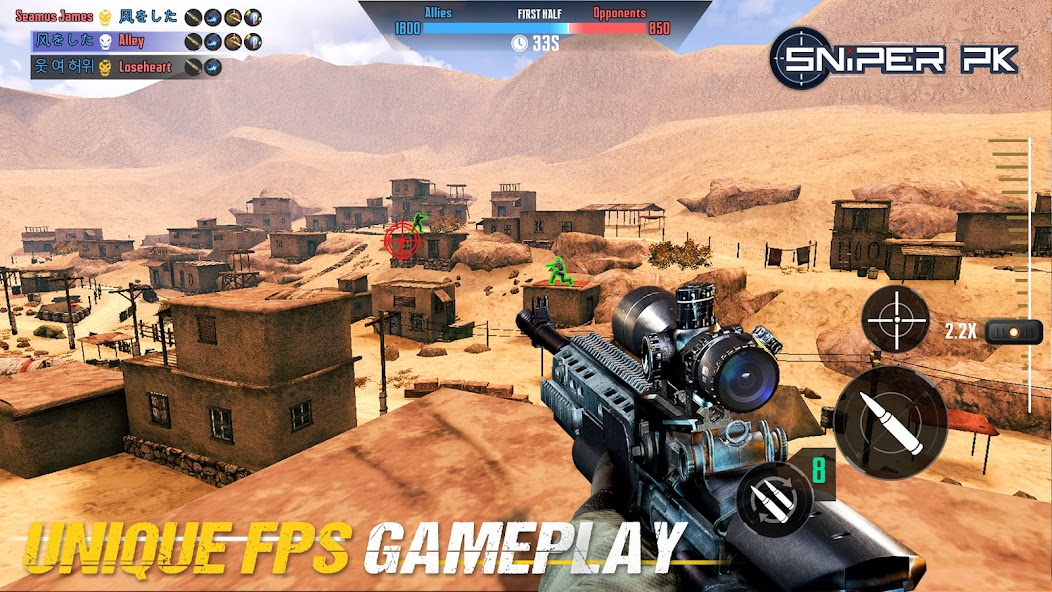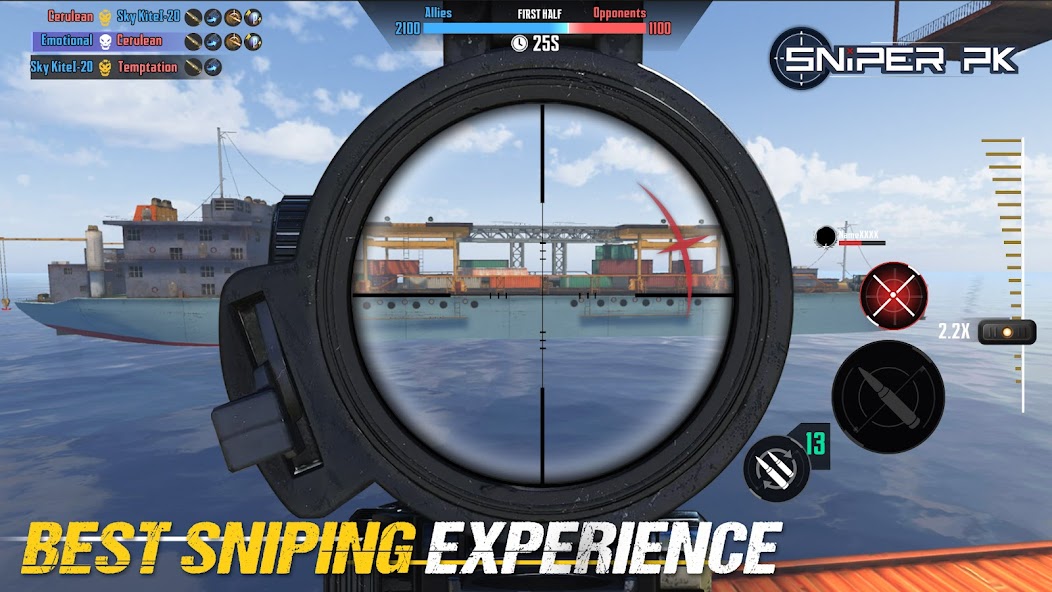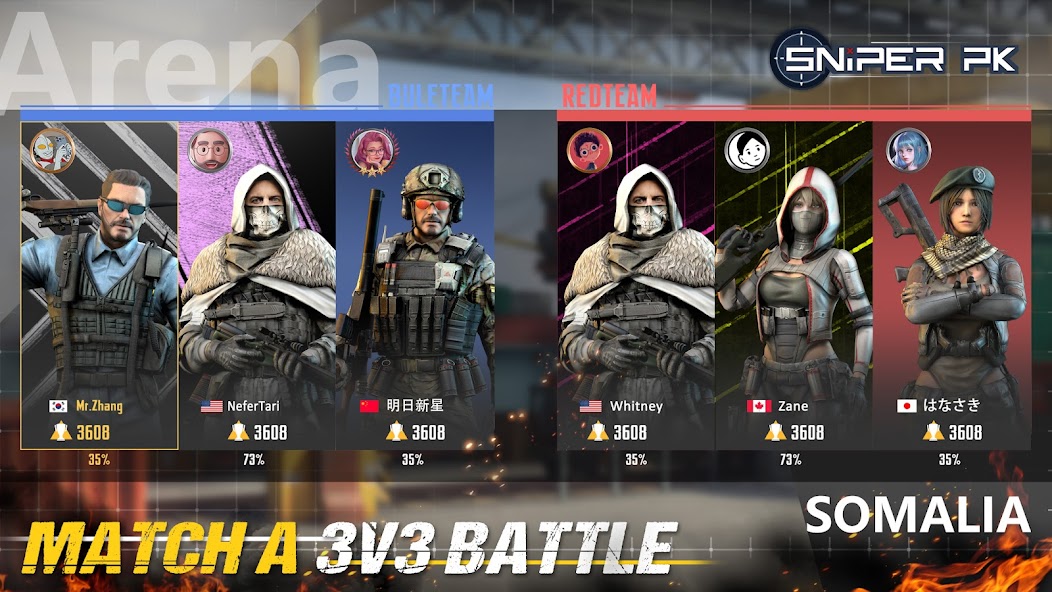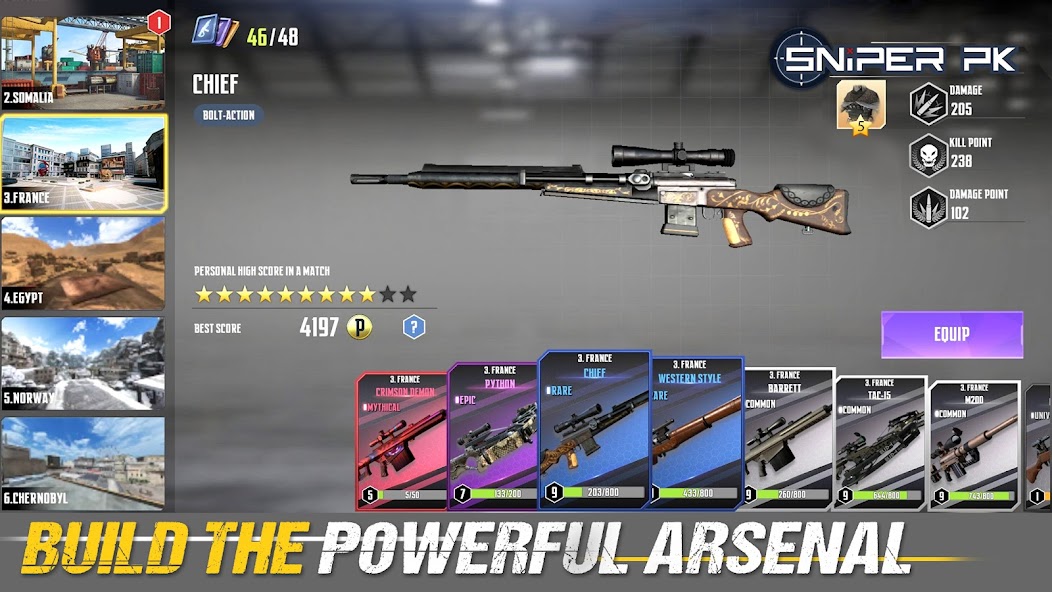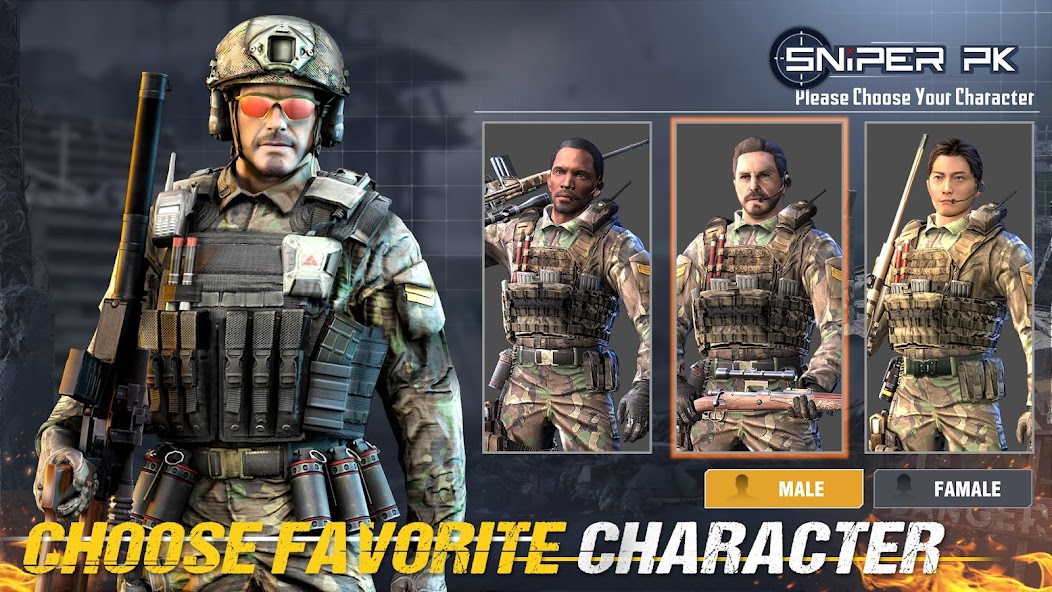 Conclusion
For players of all levels, Sniper PK Multiplayer Online provides an exciting and engaging gaming experience. Featuring easy-to-learn game mechanics and intuitive controls, this mobile game offers a fun way to pass the time and even gives players the option to interact with each other. It lets players compete against each other in fast-paced battles, with the ultimate goal of becoming the best sniper. Additionally, the game offers a variety of customization options to allow players to customize their experience. Sniper PK Multiplayer Online is an enjoyable, fun, and fast-paced shooter game that will appeal to players of all ages.

See More Similar apps