A fantasy world full of monsters and treasure awaits players in Ruin Legend, an epic idle clicker game. In this game, players must defeat monsters, collect coins, and upgrade their heroes and skills to become the ultimate legend.
Those seeking an engaging idle experience will enjoy Ruin Legend's addictive gameplay. Offline play allows players to play the game anywhere, anytime. Despite not actively playing, players can level up heroes and skills with auto-battle and incremental gameplay.
Besides collecting and upgrading dragon pets, players can also fight epic bosses for even greater rewards. Fans of tap heroes, idle games, and clicker games will love Ruin Legend's beautiful graphics and exciting gameplay.
Features in Ruin Legend Idle Clicker Games Apk
Click to attack enemy and help the hero
Level up the character to discover his unique abilities
Upgrade active and passive ability to increase their strength
Use battle magic to change the course of the battle
Throw dice to determine your path
Visit various locations during the adventure
Defeat enemy to get gold and rare loot
Find the rare pets to increase your combat power
Fight or avoid the battle to achieve the main goal
Gather a collection of trophies defeating various monsters
Win mini games for best rewards
Complete quests during the adventure
Take the treasure map from the pirate captain
Upgrade rank to destroy stronger bosses
Clear the ruins of various monsters for a reward
Defeat evil bosses in the tournament
Learn all the skills of the hero in an fun endless fun journey
Receive permanent rewards to achieve the best results
Explore a new world in this incredible adventure RPG!
Gameplay
Game Modes:
Story Mode in a Roguelike
Unlock new characters and receive a permanent dragon pet by playing Story. Find out which dragon each of the 12 hunters is seeking and how they will meet.
Lost treasure mode in a roguelike
Find lost treasure map pieces in an imaginary world. By completing the treasure map and fighting its guards, you will gain a permanent gold reward, which will help you fight more efficiently in future games.
Raise your rank in roguelike survival mode
After each game, your rank will increase. Only by upgrading your rank will you be able to achieve better results in other levels.
Battle monsters in ruins and bosses in the tournament
The hunter's level will automatically increase, and coins can be used to buy equipment at the nearest store. Learn and improve the necessary abilities, buy items and pets. In ruins, you must battle an endless stream of monsters. Defeat the strongest bosses in the tournament. Be rewarded with permanent gold and become a legend!
Endless mode
You can learn all the skills of the heroes and collect all the unique trophies and equipment. Discover this fantasy world.
Idle Clicker Game
Characters and pets automatically damage enemies. However, they cannot win without your help! Tap the enemy to deal damage. Change the battle's course with battle magic.
Level up the hero and pet, equip them with the best items so that they deal maximum damage automatically.
An adventure role-playing game
Discover unusual places, break chests, take loot, spend gold, and travel around the fantasy world. Level up, learn, and improve your abilities. Get the best equipment, upgrade weapons, get rid of debuffs, and buy buffs from healers.
A roguelike game
Play again and again to improve your rank and gain a lot of permanent gold. Each play will be unique due to the generation of locations and their random visit. It generates almost everything, including character skills, item properties, enemy strength and survivability, and their magical abilities. Luck is everything! Only your skills can help hunters overcome all obstacles.
Screenshots: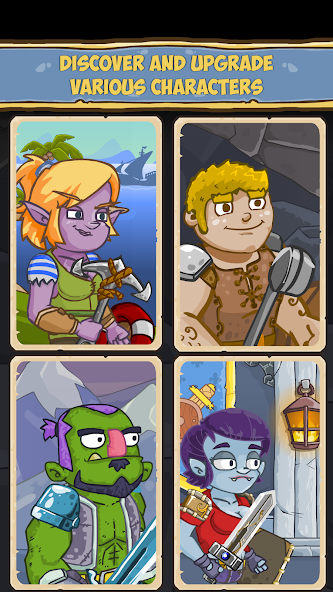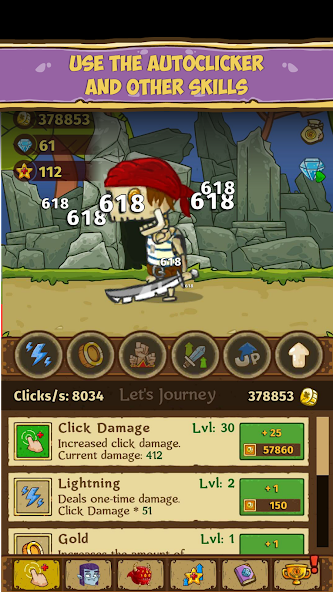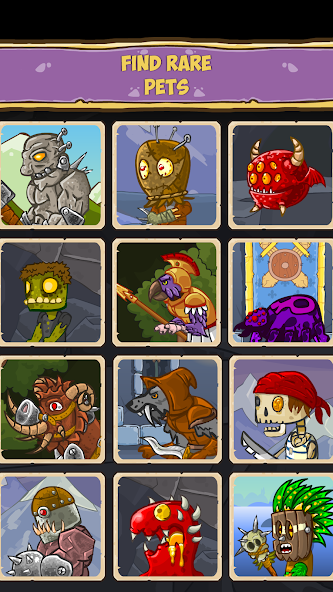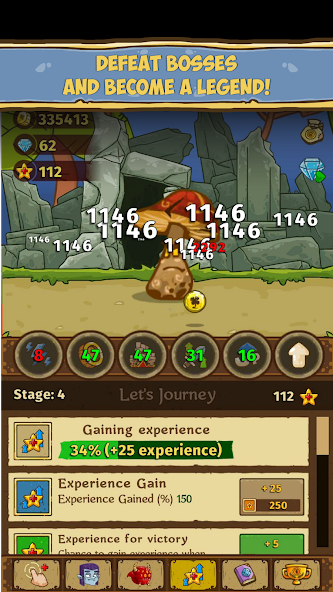 Conclusion
Ruin Legend Idle Clicker Games Apk offers hours of entertainment for players of all ages. This game is a popular choice among mobile gamers because of its simple yet engaging gameplay. The game offers a wide range of rewards, from coins to jewels and more. Colorful graphics and immersive sound effects make this a visually appealing game. A great storyline and plenty of side quests keep players entertained in the game.
The Ruin Legend Idle Clicker Games Apk is a great choice for anyone looking for a fun and addictive game. This game's unique setting and engaging gameplay will keep players entertained for hours. Gamers worldwide will enjoy its many rewards and secrets to uncover.
See More Similar apps